13 Amazing Wallpapers You Need In Your Home
Hello hello welcome or welcome back guys!
I'm so excited to go over wall paper with you! Wall paper is an amazing alternative to painting.
It can totally change the dynamics of the room and add countless elements. If you're looking to update or upgrade, consider this option! This choice isn't just limited to owners, but renters also because removable wallpaper is available.
You can install wallpaper yourself or hire a professional. The choice is yours.
Now we are going to go over some really amazing wallpaper, all sources will be noted. High end and low end wall papers will be listed! Find something you love!
1. Navy background with copper lines! This wallpaper is perfect if your style is minimalist. There are a ton of lines but its very clean. It also comes in 4 colors.
2. This is a removable wallpaper! So if you are a renter this could be exactly what you're looking for. The pattern is geared more toward someone with very bold taste.
3. Another removable option! This is white background with gold pattern. At first glance I think this would be perfect for someone who loves modern decor.
4. Lets not forget boho vibes! This wallpaper screams boho, very vibrant, and bold. If you're an artistic person or love art incorporate that into your space with this wallpaper.
5. I had to incorporate a black option! I know this would make an amazing accent wall. Is modern your style? This could be for you!
6. If you love glam, this is yours! It comes in other colors but the amazing part is its inexpensive so because its so bold you don't need much. Accent a wall or ceiling.
7. Are you more of a rustic person? I have something for you! If you want the worn wood look but don't want to add wood to your walls, try this! So much easier than buying a ton of wood and distressing it.
8. Another wood option but this is different because it could be considered modern or rustic. The white color changes the vibe a little. Would you put this in your home?
9. This option is a little different. These are actually tiles, textured tiles. We had the rustic wood so I wanted to incorporate a brick option. If you're a fan of industrial decor this option is for you!
10. This is definitely a personal favorite, the soft gray with the rose gold lines! Rose gold has been trending for some time. In the photo the wallpaper was styled with midcentury modern furniture. Which gives your an idea on if this is the wallpaper for you!
11. Can I have two favorites? This wallpaper is different from the others. Its very calm and welcoming, The twig pattern is perfect I would for sure use this in a full room. Amazing design.
12. Do you love animal prints? You may love this crocodile wall paper! Its so subtle compared to other animal prints. The pattern is spot on and the shades of gray give so much dimension.
13. Love this embossed wall paper. I had to include an option like this! Traditional print and ideal if you have problems with your walls. The wallpaper will hid imperfections.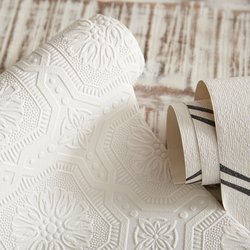 Be sure you always read reviews! They will give you more insight on if the wallpaper is right for you. Also consider where you are purchasing from. Some places hand print their wallpapers so they may cost more. There is always an option some where for you!
Thank you so much for reading! I hope you enjoyed!
Comment below and tell me which wallpaper was your favorite! Also let me know if you're considering wall paper. Did this help make your decision? I hope so!
Remember, I'm just here to help!
K.R